Kanye West Claims Adidas Is Selling Fake Yeezys, Calls Them Out On Instagram
Nowadays when we hear Kanye, we seem to go "what now"? Well, now the renowned living legend is at it with his partner Adidas over the slides the company is selling that appear to look exactly like Yeezy Slides. Ye returned to his Instagram account for the first time in weeks on June 13, 2022, to post an image of the Three Stripes' new Adilette 22 Slides, accusing the company of selling fake Yeezys.
Released earlier this month, the updated version of the brand's signature slide features a redesign that Adidas says it is inspired by 3D topography and human expeditions to Mars. Kanye posted a picture of the slides on his Instagram, with a long caption explaining his disposition on why he feels Adidas is selling fake Yeezys.
"To Kasper I'm not standing for this blatant copying no more. To all sneaker culture…This is for everyone who wants to express themselves but feel they can't cause they'll lose their contract or be called crazy…These shoes represent the disrespect that people in power have to the talent." That is part of the Instagram caption, as the post is now unavailable.
 

 

View this post on Instagram

 
Here is the post in case you missed it: (credit to the source @akademics)
 

 

View this post on Instagram

 
West goes on to say that he's not talking to "DC" about this and instead wants to talk to Rørsted directly. It is believed that Kayne is referring to Daniel Cherry III, who joined Adidas as senior vice president and general manager in January 2022. Daniel Cherry previously worked alongside West as part of Nike's Air Force 1 25th anniversary "Classic" campaign.
The Adilette 22 Slides released at the beginning of the month for a retail price of $55 and have since sold out on adidas.com, however another release is currently advertised for July 8. Meanwhile, the Yeezy Slide from Ye's Adidas line originally retailed for $55 but has since seen a price increase to $60.
Kanye made another Adidas-related Instagram post later that evening, sharing a screenshot of a text message that appears to outline the stipulations of his contract with Adidas. Which lends to the idea that Adidas is NOT selling fake Yeezys, just their allotted version of the slides.
Highlighted is a clause that notes "There is a limited exception where he can do Yeezy branded casual and lifestyle apparel on his own but not with a competitor." 
Since all posts have been removed from Kanye's Instagram account, even his new design for McDonalds. Based on the post, it looks like Kanye is teasing launching his own Yeezy apparel line without the help of Adidas, since West's Adidas deal is currently set to expire in 2026.
Most of the message to Adidas was cryptic, leaving many to believe only Adidas CEO knows what Kanye is really saying! West's gripe may not be without merit. While it's commonplace in the sneaker industry for brands to release derivative "take down" variations of their own popular models, Adidas has been dropping Yeezy-adjacent footwear since the line's early days, so some could say they've been selling fake Yeezy's, so why would Kanye be mad now?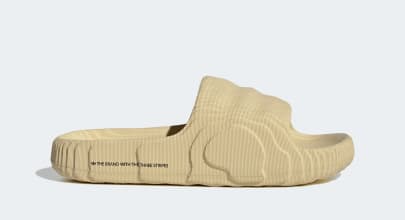 The Adidas Adilette 22 Slides. Image via Adidas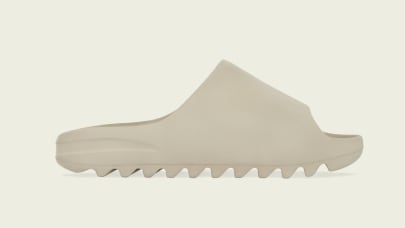 Adidas Yeezy Slide. Image via Adidas
Kanye did say in his rant to Adidas that he would not take the copying "no more"! What moves do y'all think Kanye is churning up to make next? Watch out Adidas, I'm not sure Ye is the kind of genius, I mean Gemini, you want to make mad!